The Birth of Edgar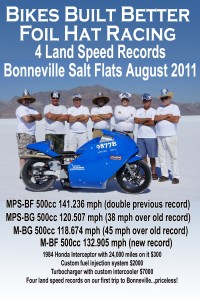 In late 2009 early 2010 with a slow economy and nobody buying custom motorcycle parts or accessories we were discussing what should be our next project. We have built low budget show bikes High end national show winning bikes performance bikes for the track and street so what next? Did we just want to take a break and do a trip to Sturgis or make an insane commitment and build a Land Speed Racing Motorcycle and go to Bonneville Salt Flats for Speed Week and break 4 SCTA Land Speed Records. Well that's right were nuts so we went for the SALT idea. We purchased an SCTA Rule book read it cover to cover and decided that a 500cc motorcycle would be a good place to start our salt quest.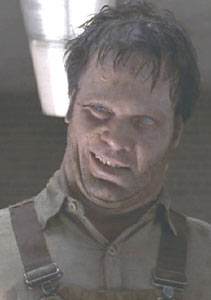 We will track the progress of the project here under the Edgar Project section of FoilHatRacing.com
Why Edgar: well if you remember the first Men In Black movie there was an alien that took over the body of a farmer wearing overalls named Edgar.  When sourcing some parts we needed after a frustrating day of fabrication a dis-shuffled Joe walked into the Injection Connection next door and proceeded to ask as everyone was busy with other stuff Where do you keep your fittings? A customer replied you remind me of the alien in the movie and so the race bike got it's name Edgar.